The California Council on Science and Technology (CCST) is a nonpartisan, nonprofit organization which provides objective advice to the Governor, the Legislature, and other state leaders in California — mirroring the role that the National Academies of Science, Engineering, and Medicine serves at the U.S. national level.
CCST convenes a network of partner institutions from across California to respond to policy questions in Sacramento involving science. By translating technical expertise from the likes of Lawrence Berkeley National Laboratory, Lawrence Livermore National Laboratory, University of California and California State University campuses, Stanford, Caltech, and NASA Jet Propulsion Laboratory, CCST hopes to make California's policies stronger with science.
In late 2017, CCST was planning to relaunch its annual Science & Technology Week (S&T Week) in the California State Capitol — a celebration of science-informed policy. With informational briefings and awards receptions already planned, CCST realized it needed to organize an additional, distinct event to highlight California's brightest asset: student researchers.
The Story
CCST sought a new program that could elevate its network of university partners, their student researchers, and CCST's profile in the state-level policy community. This program would also have to leverage CCST's existing strengths and resource — chiefly its role as science advisors to state policymakers, and its experience educating Ph.D. scientists on the nuances of state-level lawmaking.
CCST already had a renowned science policy training program — its year-long CCST Science & Technology Policy Fellowship. A new program for S&T Week would have to somehow take the best elements of that fellowship experience and infuse it with a central emphasis on science communication training — while culminating in an exciting, educational, experiential event bringing student scientists and policymakers together.
The Process
With this brief in mind, I conceived, pitched, and rolled out the California Science Translators Showcase (#CCSTShowcase) — a program that prepared student scientists for an afternoon social at the California State Capitol, networking with legislative staffers and other policy professionals. Graduate and postdoc scientists gain valuable experience in thinking on their feet and translating their knowledge for a policy audience — while legislators and staffers gain timely advice on scientific matters with policy relevance.
I managed and led every aspect of the Showcase, from program design to recruitment, training, marketing, and run-of-show. Participant recruitment would take the form of audition videos, where graduate students and postdocs had to explain the relevance of their research to a policy audience in under 60 seconds. From these audition tapes, 15 participants were invited, representing a breadth of research topics and CCST partner universities — including San Diego State University, UC Berkeley, UC Davis, UC Irvine, UCLA, UC Riverside, UC San Diego, UC San Francisco, UC Santa Cruz, Caltech, and Stanford.
With everyone spread across the Golden State, I conducted all trainings over webinars. For the scicomm primer webinar, I used our Creative Externalities Connecting with Your Audience curriculum and worksheet; for the California policy primer webinar, I improved on curriculum I had previously developed for CCST to educate K-12 STEM teachers on the California legislative process. Google Apps were used extensively for follow-up mentoring and collaborative learning.
The icing on the program design, however, came from then-CCST Executive Director Susan Hackwood, who suggested that each presenter have a "bumper sticker" with a slogan about their research — an idea after my own heart (see #AdSciComm). Out of cost and audience engagement practicality, I opted for bookmarks instead, working with each Showcase participant to write and refine their research tagline and science briefing copy.
A little over three weeks after webinar one, it was game day. Our 15 CCST Science Translators met each other for the first time, bringing their conversational wit and scientific smarts to Sacramento. Serving as Showcase emcee, I introduced our event sponsor, California State Assemblymember Jose Medina (D-Riverside), Chair of the Assembly Higher Education Committee. Two surprise guests also attended the Showcase — 2017 Nobel Laureates in Physics Barry Barish and Kip Thorne, whom Caltech had brought to the State Capitol for legislative honors coinciding with S&T Week.
The Showcase drew praise from state staffers and other Capitol community members, who engaged with students and postdocs on topics from wildfires to biomedicine to rainfall forecasting. Alumni from this inaugural Showcase cohort have even gone on to congressional fellowships or state policy work. And the Showcase program was repeated with a new cohort mere months later — for Governor Jerry Brown's historic Global Climate Action Summit in September 2018.
My deep, deep gratitude goes to my dear friend and colleague Puneet Bhullar at CCST, who managed all Showcase logistics with me under an incredibly tight deadline. It was a wonderful experience creating and launching a new science policy program and event from scratch, coordinating with legislative partners and imbuing a streak of creative spirit at the same time. Of course, the true stars of this project were our 15 intrepid Science Translators — who trusted our vision and brought their energy and brilliance to the Showcase. Their success was our pride.
— Ben Young Landis
Gallery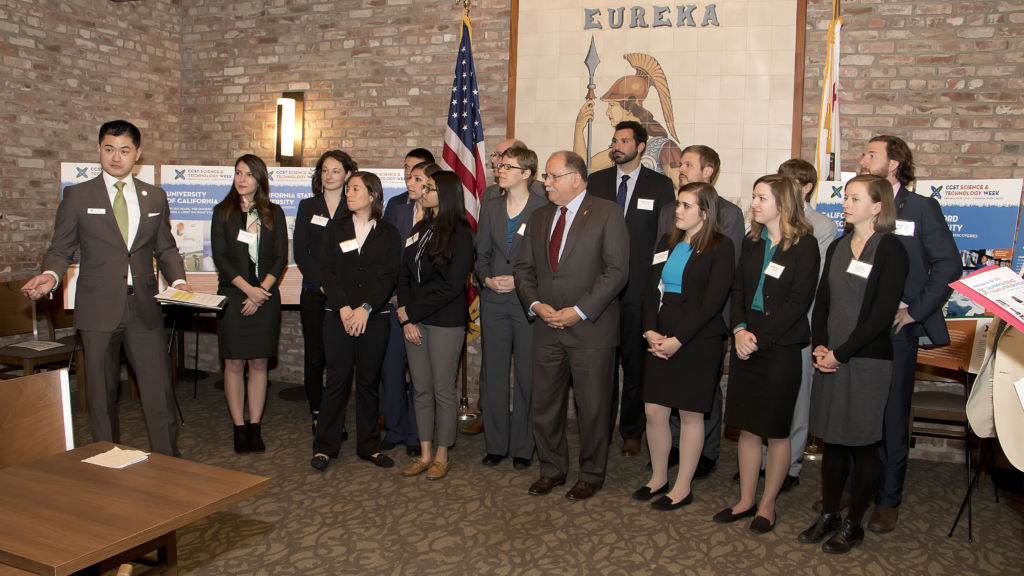 Credits
Client: California Council on Science and Technology
Website: www.ccst.us
Delivered: September 2017-February 2018

Creative Direction: Ben Young Landis
Program Strategy: Ben Young Landis
Program Management: Ben Young Landis and Puneet Bhullar (CCST)
Marketing and Recruitment Lead: Ben Young Landis
Lead Trainer: Ben Young Landis
Lead Copywriter: Ben Young Landis
Lead Designer: Ben Young Landis

Showcase Emcee: Ben Young Landis
CCST Event Hosts: Puneet Bhullar, Sarah Brady, Brie Lindsey, Annie Morgan
Caltech Legislative and Government Affairs: Patty Rhee
Office of Assemblymember Jose Medina: Kelly Reynolds, Erica Costa, Mishaal Gill, Vantana Martinez