Located along the Yuba River in California's Sacramento Valley, Wild River is a third-generation family farm that has deeply invested in organic agriculture. The company considers the flood cycles as part of its operations, and employs integrated pest management practices and uses natural fertilizers wherever possible to safeguard its workers and its fruit from harmful pesticides.
Wild River's fruit production is headlined by its kiwifruit varieties and its mandarin varieties — and any brand redesign for such a company has to anticipate its full range of products in a unified visual identity and central message.
The Story and Process
When Guy Rogers and I first pitched the "Our Owl Friends" branding concept to our client at Wild River, we knew immediately of the potential legs and creative flexibility this idea presented.
Necessarily, we prioritized the green kiwifruit and the Tropikiwi variety for the initial rebranding rollout in 2018. But even then, we already had early sketches for a full lineup of Wild River fruit characters — all in variations of the "Our Owl Friends" barn owl design.
A couple seasons later, we finally got the green light to "hatch" the newest addition to the Our Owl Friends family for Wild River's line of Murcott mandarins. Now in stores, "Mandy Mandarin" has already proudly taken her perch communicating the Noland Family's dedication to sustainability and care of staff. And she is joined on the back of the mesh bag label by our original green kiwi owl — reminding shoppers to look for both of these nutritious, delicious offerings from Wild River in their produce stand.
Our thanks again to Wild River for committing to the "Our Owl Friends" concept, and my thanks to Guy Rogers for taking the design lead on this next iteration of our original creation. Ask for Wild River Murcott mandarins in your local grocery today!
— Ben Young Landis
Gallery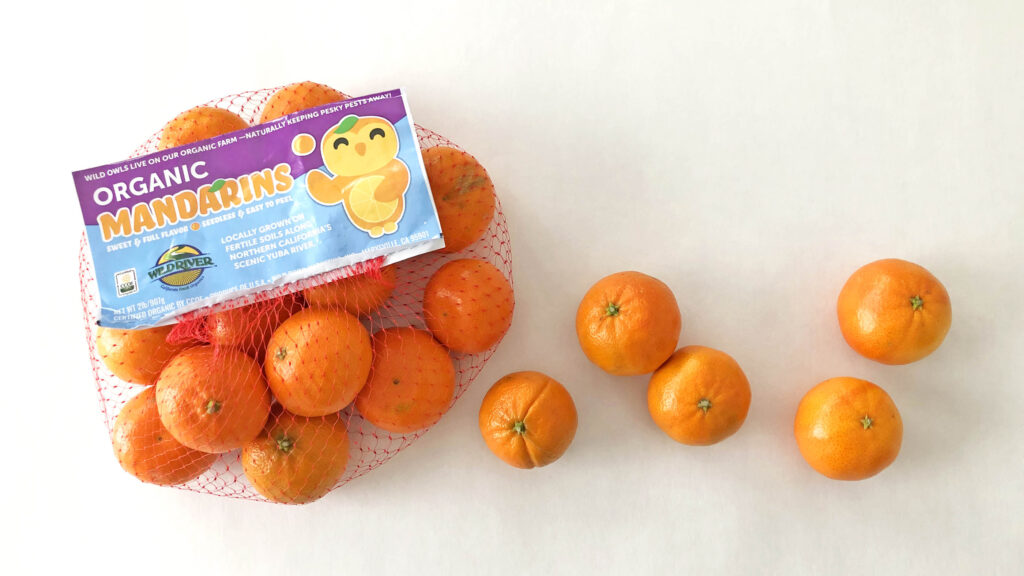 Activate
Look for Mandy Mandarin at Nugget Markets, Raley's, and Market 5-ONE-5 in the Northern California region during citrus season. And look for Our Owl Friends green kiwifruit and Tropikiwi kiwifruit for the remainder of kiwifruit season.
Follow Wild River (@WildRiverFruit) on Instagram, Facebook, and Twitter.
Credits
Client: Wild River Marketing, Inc.
Website: www.wildriverfruit.com
Delivered: December 2019-February 2020

Creative Direction: Guy Rogers, Spark Creative Design, with Ben Young Landis
Lead Designer: Guy Rogers, Spark Creative Design